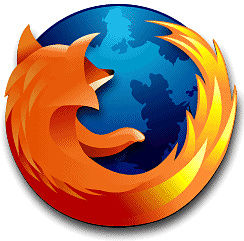 I don't think I'm going to upset too many individuals when I say that Firefox is the SEOs browser of choice. Although it must be said that Google's Chrome browser does now have some very nice extensions, Firefox has lead the way when it comes to flexibility for a very long time.
There are plugins for almost anything SEO related that you may want to do with your browser but then there are those plugins that nearly all SEOs have. Lets get started with the SearchStatus plugin for Firefox. This is one of the most complete and unobstructive plugins when it comes to the matter of getting all you standard SEO metrics in one place. You can check the page rank, alexa rank, compete rank as well SEOMoz's mozRank simply from the status bar in graphical or text format. On top of this you will be able to quickly load sites to check your back links, search engine saturation and many other useful bits of information straight from the status bar of Firefox.
Here's a screen shot of what the SearchStatus plugin looks like in action:
Next up has to be FireBug plugin for Firefox which will allow you to easily inspect the HTML, JavaScript and CSS of a page. This is a great way to make sure all your heading tags are as they should be and your image alt tags are in place. In addition to this you can also perform live edits to the page you are viewing. These changes can then be saved to an HTML file or just let you see what some simple tweaks to the markup would look like. As additional add-ons for Firebug it is recommended that you install Google's Page Speed and Yahoo's YSlow both of which will give you some useful advice on how to speed up your site.
Here's a detailed screen shot of what you would see through Firebug: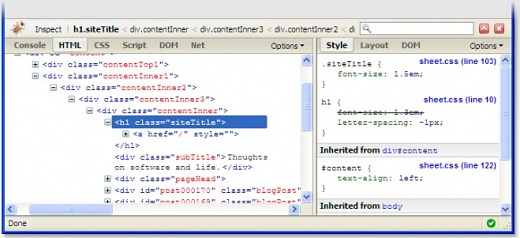 The Web Developer Toolbar is another of the SEOs favorites allowing you to view a site without JavaScript, CSS, Images and many other options. Quick options to validate a sites HTML, CSS and accessibility are also very useful. Whilst this plugin does a whole lot more it is useful to validate the basic markup of a site and browse without JavaScript to make everything falls back to HTML correctly.
GreaseMonkey is not an SEO related plugin straight out of the box but instead allows you to install JavaScript scripts to run in your browser. Some of the most useful are scripts to number the search results and highlight your sites. This makes it much easier when you want to check your rankings manually and quickly.
As far as the essential plugins for SEOs these four will do most of what you need. Any other important plugins for those practising SEO that I have missed please feel free to mention in the comments.
For those of you involved in international SEO the Google Global plugin from RedFly marketing is a convenient way to search in many countries around the world with geo located results.
Alex works for an SEO and Web Design company and also works for a business dealing with accident compensation.