Group buying is a trend that had incredibly growth throughout 2010. Group buying, which refers to social buying or collective buying as well, is the buying an offer which has been significantly reduced, due to the fact that it is only valid if enough buyers are found.
From the graph above, you can take a look at the number of monthly unique visitors from the top 2 group buying websites in North America:  LivingSocial, and Groupon. As you can see, another player in the group buying industry, Tippr, does not even come close to the number of monthly unique visitors from LivingSocial and Groupon throughout the period April to December 2010. Here is a short review of these 2 key players in the online group buying industry.
LivingSocial: The Amazon.com-backed Giant from D.C.
LivingSocial first gained notoriety for their Visual Bookshelf application on Facebook, which was the first and largest application allowing users to catalog and share their favorite books with friends. Later on they released the PickYourFive (e.g. Pick Your Five Favorite Movies) and Polls applications which made them the number one application developer on Facebook as measured by page views. It wasn't until 2009 that LivingSocial started the daily-deal business.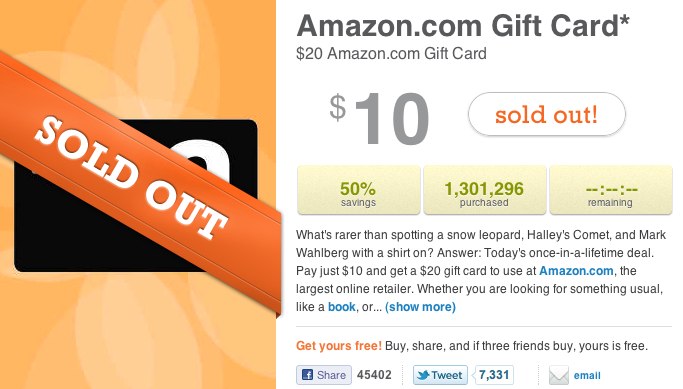 Until October 2010, the Washington, D.C. based startup's core strength was its ability to create a strong network of referal sites and until this date it was able to have more referral traffic than the leader of this industry, Groupon. However, things changed dramatically in December 2010 as Compete reported that Groupon had over 17,000 referring sites, while LivingSocial was under the 7,000 mark.
Groupon: A Bubble in the Making?
LivingSocial used to have the upper hand over Groupon in that Amazon.com backed up the first. However, on December 2010, Groupon joined the hall of fame of entrepreneurs who have said no to Big Money.  Bloomberg Businessweek reported that Groupon didn't accept the $6 billion buyout offer from Google, which is being compared to the failed $1 billion buyout offer from Yahoo to Facebook back in 2006.
There has been a lot of speculation on the actual value of Groupon and net worth estimates are skyrocketing. As a response to this valuation, LivingSocial promoted for the first time in its history a major brand, Amazon.com, through a $20-gift-card deal at just $10. This move had been tried earlier in August 2009 by Groupon and Gap. As the competition between Groupon and LivingSocial intensifies and they both need to continue their amazing growth to sustain their high market valuations, 2 trends start to emerge:
Small businesses will be left out. Consider this:  LivingSocial sold 1,301,296 $20 Amazon.com gift cards, which translates into $13,012,960 in gross sales for one day's work. Why would you bother with the little guys? Big money brings bigger money.
Expect higher valuations for competitors and a fast process of merger and acquisitions in the online group buying industry. Tippr, BuyWithMe, DrawCrowds, TeamGrab, iTwango and TipToken have received good news and must act quickly if they want to survive.
Enter: Google Offers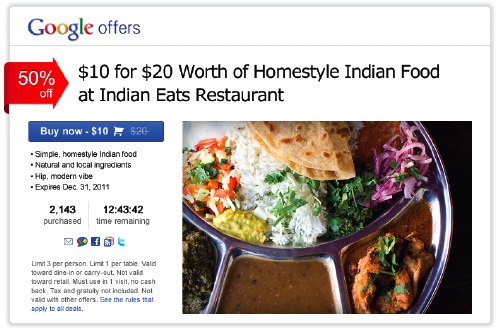 Fortune Magazine wrote a strong critique about Google in Google: The search party is over. With the failure of Google Buzz and the missed opportunity of seizing Groupon, the search giant has not been able to make a stronger impact on social media and its different segments.
Then it comes to no surprise that given the heat of the group buying industry, Google has decided to give it a try with Google Offers.
UPDATE! 1/27/11: Google Offers did a soft-launch today.
Here are some screen shots of the process as described by Google on a leaked fact sheet:




Takeaway
The online group buying industry experienced such tremendous growth throughout 2010 that in order to sustain its current market valuation, it will need to rely on bigger, faster, more lucrative deals. This would mean a possible ugly divorce between small businesses and group buying giants such as Groupon. The entry of Google Offers into the industry will truly put to the test 2 long-held hypothesis: how replicable are the business models of LivingSocial and Groupon, and whether their first-mover advantage will prevent customers to leave them for attractive new alternatives.