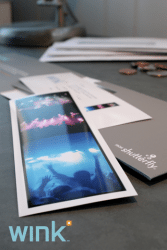 During December 2009, while playing the iPhone app, Words with Friends, it was not unusual to find an ad promoting another iPhone called Wink.
What is Wink?
Wink is a great iPhone and web app developed by the guys and gals of Shutterfly.
This photo app truly brings back your pictures into your life by not limiting itself to one single platform (it works both on the iPhone and on the web, and they are currently working on apps for other smartphones) and by playing well with your photo collections on Facebook, Flickr, and, of course, your own computer. The best part about Wink is that it offers a tangible reward within 2 minutes after you play it: a printed photostrip™ that you can mail to anybody anywhere in the world for just $2.50.
Continue reading "Shutterfly's Wink Brings Your Photos to Life"