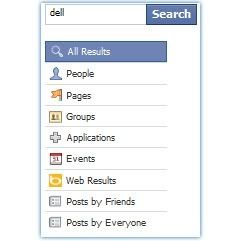 So we spend plenty of time on Facebook nowadays: talking, exchanging photos and just browsing. Is there any way to make use of all this mess? Can social media talking really turn useful?
Here's a simple example: say, I want to buy a computer and I want Facebook to help.
My first obvious step is to SEARCH. So I use that handy search field right on top of the screen. I go ahead and type my very first search phrase that comes to mind: [dell coupons]. What can I say, I am using Google most of the time and I am that straightforward.
Obviously, this simple approach won't work with Facebook: the first tab I see there is pretty much useless. It's the collection of the related (spammy) groups and applications that won't give an instant answer to my question: how to quickly find a good rebate (besides, most of these are never updated).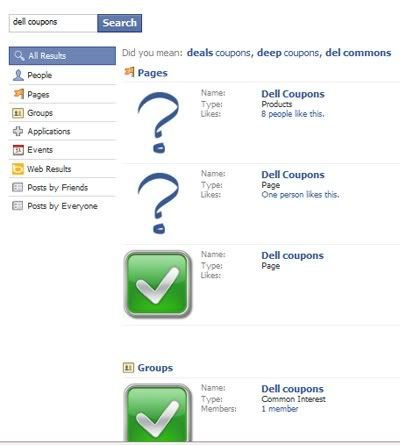 I don't give up. I keep searching. "What do others have to say", I think. People do talk about buying a computer on Facebook, do they? So I click through "Posts by everyone" with no huge luck again: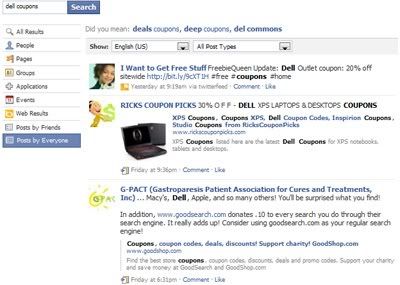 I am starting to think my search terms are wrong but there are more tabs out there, so why not keep experimenting: what do my friends have to say?
OK, they don't talk about that – quite understandably: neither do I!
I still have a hope. I ignore "Web Results" – we know that they are powered by Bing and the purpose of the experiment is to play with Facebook.
I don't have much luck with "Events" tab – not surprisingly: I'd like to see a person who would set up an event for "Dell coupons" (possible but vaguely).
With "Applications" tab it becomes clear that Facebook wants me to change my search terms (some of the suggestions are weird though. I wonder what are they based on?):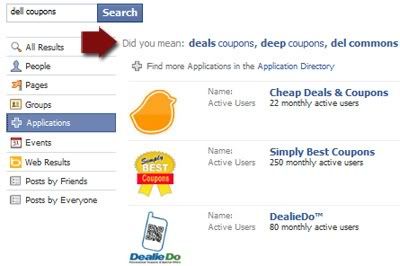 I still don't give up and click thorough to "Groups" tab: some of the results are almost useful but still require plenty of extra work to find the actual answer: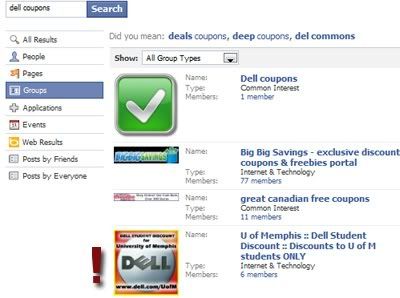 As you can imagine, I didn't have much luck with "Pages" and "People" search either: surprisingly enough, there's no single "real" person that would be named "Dell Coupons". But why not add to friends one of these spam profiles? 🙂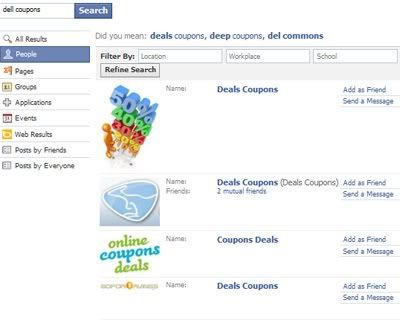 I can't see Facebook Answers tab in there but I can clearly see a result from there in Facebook Suggestions:

Clicking that link does give me a few decent resources – but none of them actually lands me on the actual page where I can grab my coupon and go buy something.
…Unlike with good old Google results: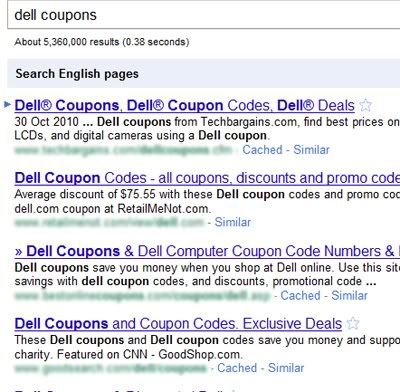 So is Facebook search useless? – I am pretty much sure it is not (for some purposes) but for now, for random information search it appears to be pretty much helpless.
Is it going to change? – Social search does have the future. Facebook is predicted to be using its "Like" button to start ranking the web (like Google once did using the link data). I do want to see how these predictions come true.
But for now my experiment failed: no dell coupons on Facebook – even after about 10 minutes of searching and clicking. I know I should have tried other search terms but that would mean even more work…
This is a guest post by Annie Wallace, a viral mom and social media blogger.