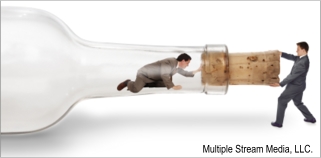 If you want your online business to be successful then you need to actively market your business. An introductory marketing class will teach you that there are two basic options for marketing: push and pull. A smart online business marketing strategy is to use both types of marketing at the same time.
Push and Pull Marketing
The two different types of marketing are:
1.  Push marketing: This is marketing to push your product to the market. You market it to distributors and wholesalers who in turn push the product out to consumers.
2. Pull marketing: This is marketing where you directly target the consumer, pulling them into purchase your product.
Both types of marketing create a demand for your product. Both are useful for growing your online business. Utilize both at the same time for the most success.
A Good Push-Pull Marketing Strategy
A good marketing strategy that incorporates both push marketing and pull marketing typically includes the following 10 strategies:
Your website. The number one pull marketing tool that you have is your website. This is where you have the ability to really show off what you're all about. You can highlight certain products to create a demand for them among your customers.
Your blog. The blog should extend the purpose of the website. It should provide useful information in a way that encourages readers to build loyalty for your business.
The use of social media. Proper social media development isn't about aggressively advertising your product or business. It's about creating a buzz around your product and getting others talking about. Targeted social media use as well as general use of social media is a great combination push pull strategy.
Establish active forums. Having forums on your site is a terrific way to get people talking about your products, your service and your brand. You can use third party forums to start this conversation as well but launching and growing your own forums is more effective for marketing.
Email newsletters. This is a direct way to advertise what you're doing and what your business is proud of to customers that have already shown an interest in your work.
Press releases. This is another great way to directly advertise your business. Use online press releases (also known as social media press releases) to include useful links to your products in your press releases.
Sales announcements. However you choose to present them, sales announcements are always an enticing marketing option that goes direct to the customer to create a demand for your product.
Paid advertising. Many online businesses use some form of paid advertising to raise awareness of their brand. Paid advertising is a smart push marketing strategy.
Collaborate with others in your industry. If you can get quoted as an expert in your industry by credible bloggers and journalists then you can raise awareness of your online business. If you guest post on other sites and syndicate your content in your field then you grow your own credibility in the field. Collaborating with others in the field that way is a great marketing tool that can be used to pull others towards your brand.
Surveys and polls. Pull marketing is all about learning what your customers want and delivering what they want to them. The use of surveys is a great way to get that information. This is a tool you can use to enhance your online marketing strategy.
How to Balance Push and Pull Marketing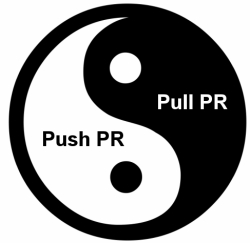 Using a combination of the above strategies will provide you with a nice natural balance of push and pull marketing. Keeping in mind the purpose of each type of marketing can further keep you balanced. Remember that push marketing means crafting your own specific message and pushing it out to customers. In contrast, pull marketing is about drawing from your community of customers and responding to them to create additional loyalty and demand for your brand. Do both.
Brian Samuels has been in marketing for 5 years.  He currently blogs about best practices for saving money and is a contributing blogger over at freeinsurancequotes.org.