The resume introduces you to potential employers. It is the hook that grabs them in so that they choose to sit down in an interview just to learn more. A carefully crafted resume can open doors that will help you land that job that you have always wanted.

There are hundreds of resume professionals that will take your money to create a document just for you. They have the expertise to get the job done quickly. But with a little time and patience, you can create a resume that has all the right stuff.
Here are 3 tips for creating a great resume.
1. Prepare Before Writing
You will need to do 2 things before you even start writing.
First, get your records in order. You will want to cover the last ten years. Find all of your employment records, volunteer records and educational paperwork. Put them on one piece of paper. You can use the information to create your work history portion of the resume. An added bonus of the record is that it will make things easier when you come into a job where they want you to fill out their application.
Second, know the sections of the resume. Every resume should include a header, objective, work history, and education section. It is also good to include a section for volunteer activities and skills not listed in the education or work history sections.
2. Write your Resume
Fill in the Sections of the Resume.
Objective – this tells the potential employer what you will bring to the table. It should be specific to the job and the company. Research the company if you are not sure and find out about their mission and vision.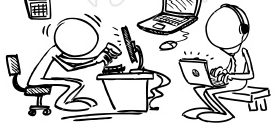 Work History – include the date of employment from the start time to the end time. Use the start time to present if you are still employed in the position. Add the company name and address, and also the name of your immediate supervisor if possible. List some of the stand out things you did in that job. Try to keep each job listing to just two to three lines if possible.
Education – this is where you list any degrees, courses or certifications you may have received over the years. Include the school, the title of what you received from the school and the date that you completed the required curriculum.
Volunteer – potential employers appreciate it when you put time and energy into doing other things. Some companies have even started a matching program to encourage volunteering. Just include what you did, when you did it and who it was for.
Skills – List any additional skills that you have acquired over the years. This could be the best place to include things like a second language, computer skills or other training that might make you a stronger candidate in the job.
3. Fine Tune your Resume
Check and recheck your grammar and spelling. Have a friend or acquaintance (or old high school English teacher) check for any problems.
Invest in quality paper. You can print on regular, white, copy paper in a pinch. If you are mailing out resumes then invest in matching paper and envelopes to give your resume the upper edge.
Keep the format clean. Use one or two fonts at the most. Limit the use of bullets because over use will make them become useless. Choose a font that is easy to read and stay away from the fancy fonts.
Creating a solid resume may take some time and planning, but it can be that added edge that will land you the job. Keep it clean, tailor the resume to the specific job and be sure to review the writing for any errors. Hook your potential employers with the right resume and you will be one step closer to landing that job of your dreams.
Mark currently blogs about online insurance quotes and ways to utilize a budget calculator.