On the past 2 weeks, I have received a lot of Twitter direct messages (DMs) with offers about "making money with Google" or "make $500 a day online".
It appears that I am not the only one.
These Twitter direct messages are not only annoying but they kill in less than a second all the reputation that we took so hard to build through our tweets.
4 Steps To Get Rid of Twitter Spam
Step 1: Login to your Twitter account at http://twitter.com/login
Step 2: Go to http://twitter.com/account/connections. Here you will see all the applications that have access to your account.
For example:
–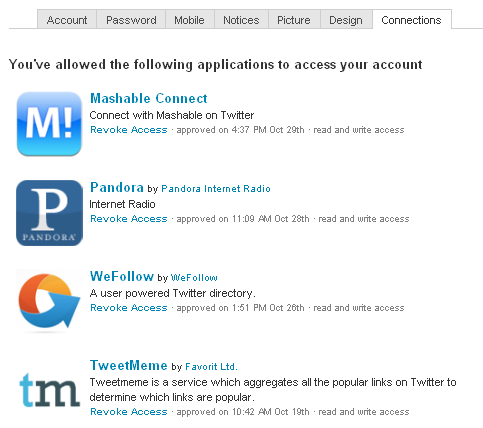 Step 3: Review all the applications that have access to your Twitter account and revoke access from those that you don't recognize.  Rule of thumb: if you take more than 3 seconds to recognize the application, revoke access anyway. If it happens to be a legitimate application that you use on a regular basis, the application will ask you again for access the next time you use it.
Step 4: Change your Twitter password. Yes, it sucks, just do it.  A small price to pay now for a better life without Twiter spam in the future.
You're done! Give yourself a hug!
Help your Twitter followers to remove unwanted viruses by retweeting this message via Twitter:
RT @idaconcpts -4 Steps to Get Rid of Twitter Spam http://bit.ly/1LWjGa
Or just share it using the media bar to the left.
More info about Twitter:

About the author: Since 2007 Damian Davila Rojas lives at Honolulu, Hawaii doing marketing, public relations, and web analytics. His research interests are viral marketing and how to use web metrics to make better strategic business decisions.  Follow Damian on Twitter at @idaconcpts.