Yesterday was my birthday.
Yay!
I received gifts!
Yay!
I received one great birthday gift via e-mail and I felt like the kitty going "nom nom nom".
I received one terrible birthday gift via e-mail and I felt like the kitty going "nooo it are my birthday".
Here's the story of one company that sucks at doing birthday themed e-mails, and another company that got its stuff together.
The Bad Birthday E-mail
Hey, nice cake picture!
So nice that Macy's remembered!
FREE SHIPPING! That rocks!
Until you read the fine print:
Due to size and/or weight, certain items bear a shipping surcharge, which will still apply. When shipping to multiple addresses, only shipping to the first address will be free; Standard Shipping will apply to all other addresses. Free Shipping offer cannot be applied to purchases being shipped to Alaska, Hawaii, US Territories or APO/FPO addresses.
Hey Macy's but I live in Hawaii!
What's the point of sending me a gift that I cannot use?
You might argue that I could save the free shipping code to use it on a future purchase, however the expiration date is April 30, 2010. Less than 60 days is too short of a time frame for me to make a purchase at Macy's.
Learn from Macy's failure: If you segment your mailing list by a specific field (e.g. date of birth) make sure to double check (make that triple check!) that the e-mail is applicable to all members of that segment.  This "free shipping" e-mail promo shouldn't go to registered Macy's users with mailing addresses in Alaska, Hawaii, US Territories and APO/FPO addresses.
The Good Birthday E-mail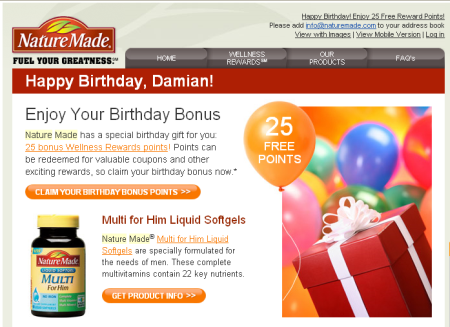 Hey, nice gift picture!
So nice that Nature Made remembered!
FREE POINTS! That rocks!
NO RESTRICTIONS! Woohoo!
IT ONLY TAKES 1 CLICK TO GET MY GIFT!  Even better!
Nature Made has a program called Wellness Rewards that lets you earn valuable rewards when you use Nature Made Vitamins and Supplements. You bank the Wellness Rewards code sfound on Nature Made bottles and packages and then you can earn rewards including coupons worth up to $7 off Nature Made products, exercise DVDs, pedometers, etc.
Learn from Nature Made's success: Birthday e-mail promos don't have to necessarily be an instant monetary reward, as long as they are highly relevant to the interests of your target audience (I have banked so far 2,735 points at the Wellness Rewards program). Make the gift/offer actionable and automatic after 1 click. No fine print, no restrictions: it's a birthday gift!
Another company that is doing great e-mail newsletters is Shutterfly with its product, Wink.