On 10/23/2009 Facebook sent out an e-mail newsletter titled "Ads Manager Announcement" to its Facebook Advertising users.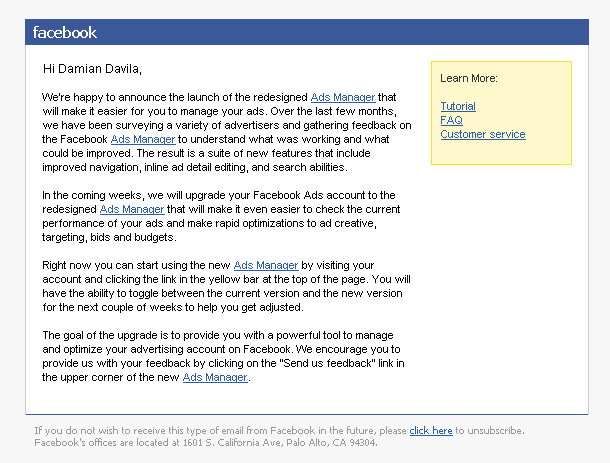 This newsletter is a great example of how to implement permission marketing, how to avoid the brochure mentality, and how to do seamless product placement.
How to Implement Permission Marketing
Click here for a full explanation of e-mail permission marketing.
Facebook provides its users with a check-box so they can decide whether or not to give you permission to contact them.
Here is a list of the Facebook ads e-mail notifications:
Facebook is asking its users: "Do you want to hear from us?" This little question is very powerful because Facebook is already engaging in a conversation with its users.  Facebook is letting them know that it wants to keep in touch with them and likewise it is asking them, if they are ok with it.
How to Avoid the Brochure Mentality
Click here for a full explanation of the brochure mentality.
Facebook did not mess around with the objective of this e-mail.
The business objective is clearly defined (go to the Ads Manager right now!) and how this e-mail fits into it.
There are 5 mentions of the Ads Manager tool and they all are clearly defined as hyperlinks to the Ads Manager tool.
Facebook sent you this e-mail because it wants you to use its Ads Manager tool right now. Facebook will measure the success of this e-mail campaign not by the CTR on those links, but by how many dollars are generated from the use of the Ads Manager in a certain period of time.
The brochure mentality is avoided by putting the brochure as a simple link on a side bar (if you want the brochure, here it is), rather than presenting the brochure first and then putting a link to the Ads Manager at the end.
How to Do Seamless Product Placement
Everybody wants to do a little bit of money with its e-mail communications right? Facebook appears to want to do that as well.
Facebook may or may not had planned to sponsor the services of Box.net, but it surely ends up just being that!
The message is clear: Facebook uses Box.net for sharing files via e-mail.
Conclusion
Great e-mails don't happy by accident! Take some cues from Facebook and improve your e-mail marketing campaigns today.