Through LinkedIn (find me at http://www.linkedin.com/in/ddavila) and Twitter (@idaconcpts), I receive a lot of questions about marketing and web analytics.
By far, most business owners and marketing consultants have questions regarding how to get started with an email newsletter.
Often I direct them to these 4 Steps to Get Started on Email Marketing. Once email marketing practitioners have a solid foundation and have mastered the basics, then we can start talking about content creation.
Here are 4 tips on content creation for a succesful email newsletter and how 4 companies (Facebook, Shutterfly, Bing and Evernote) implement these tips.
1. Your e-newsletter can be short and sweet
You don't have to send a long newsletter. It can be short and focus on one main story.
You should be able to answer in just one sentence: "What's the purpose of this email newsletter?" Your one sentence answer needs to trackable with one single measure to determine whether the email campaign was successful or not.
Depending on your business needs, you might use an email template or just plain text (for a good discussion on which one is more appropriate see this guest post from Zachary Zawarski).
Facebook Ads creates great short and sweet emails. For a full discussion on how Facebook does email newsletters, read:
How Facebook Does E-mail Newsletters
How Facebook Does E-mail Newsletters II
How Facebook Does E-mail Newsletters III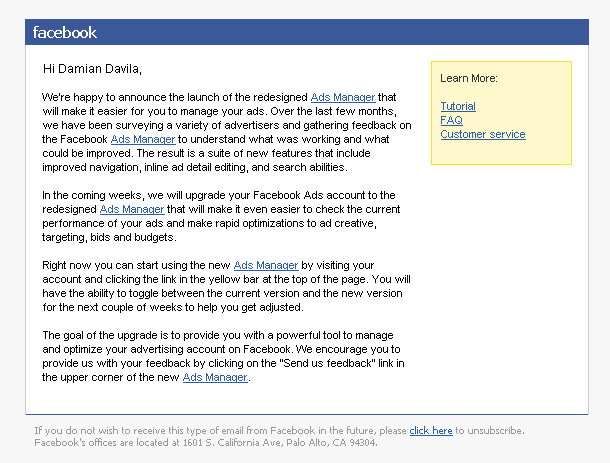 2. Share important news (and a gift!)
Remind your customers about the benefits of using your products and services.
Are there any new updates about your company, products or services that your customers would find interesting?
Any newsworthy items in your industry?
Make good use of the law of reciprocity and provide something REALLY useful and FREE to your email recipients.
Shutterfly Wink's is the king of email newsletters that include a freebie (a photostrip credit to send a free photostrip to anywhere in the world.
Here's how they offer 2 free photostrip credits on their email newsletter:
3. Showcase your customers and successes
Share customer success stories: show how REAL people make ACTUAL use of your product or service
A company that does this very well is Evernote.
Check out the following screenshots from their "How I Use Evernote" Video Project. See how many views each videos has.
This video series is often highlighted on their plain text email newsletters.
4. Showcase your community spirit
How does your product or service help the community? Highlight how you support the community and invite your customers to join you. Adding a local touch can help make your e-newsletter more interesting and relevant to your customers.
Bing does this well with their current local fundraising initiative.