In October 2009, we analyzed an e-mail newsletter from Facebook titled Ads Manager Announcement that was directed to the  Facebook Ads users. This newsletter is a great example of how to implement permission marketing, how to avoid the brochure mentality, and how to do seamless product placement.
Below is a snapshot of another newsletter release for Facebook Ads users on January 19, 2010: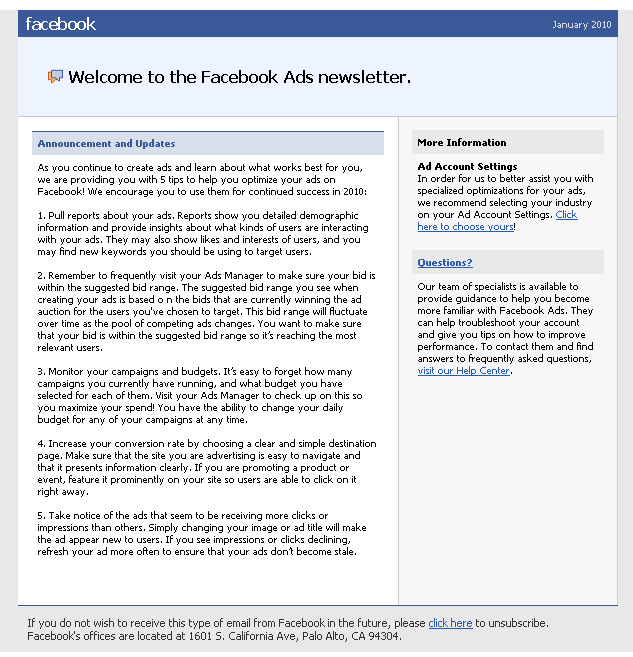 The newsletter design is good: short and informative.
However, there is one big problem with this newsletter: the no-reply e-mail address from Facebook.
The Problem with a No-reply E-mail
Conversations matter.
Yes, they really do. Think about this.
Would you want to talk with somebody who introduces himself as "Hi, I'm not interested in what you think, but let me tell you about this!"?
Probably not.
Scratch that. Absolutely not!
Facebook Ads is doing exactly that by using a no-reply e-mail:

The problem with no-repply e-mails was first pointed out by Seth Godin in his book, Permission Marketing, back in the 1990s, and yet still, 20 years later, there are still a lot of organizations (e.g. Facebook) using this conversation-killer e-mail address.
What about the Help Center mention?
The newsletter's link takes you to the Facebook Help Center with a list of FAQs about Facebook Ads:
Still Facebook does not want to hear from you.
Don't think so?
The contact form is buried on the website.
Here's how it looks like: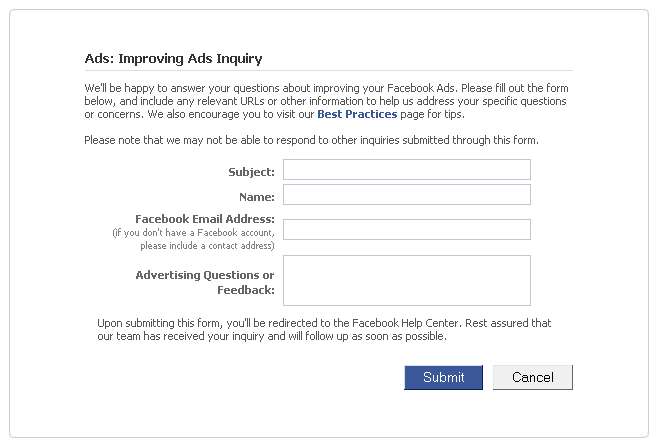 If there is a way to reach Facebook directly with your question, why don't make it simple for users to do so.  Facebook wouldn't like that they needed to spend 10 minutes trying to figure out how to e-mail each one of its members, right?
Conclusion:  when doing e-mail newsletters make sure to make it as easy as possible for your e-mail recipients to contact you.
More info about Facebook and E-mail Marketing:


About the author: Since 2007 Damian Davila Rojas lives at Honolulu, Hawaii doing marketing, public relations, and web analytics. His research interests are viral marketing and how to use web metrics to make better strategic business decisions. Follow Damian on Twitter at @idaconcpts.